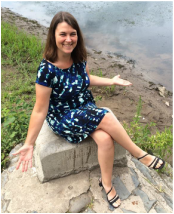 Chrissy Pahucki was born in Goshen, NY. She is a painter living in the Hudson River Valley.
Chrissy loves the outdoors and spends many Sundays from May until October painting en plein air with The Wallkill River School. She also participates in plein air festivals in New York, Pennsylvania, Maine, Maryland and New Mexico. During the colder months she paints landscapes and nature studies from photographs in her studio. Using acrylics and occasionally watercolor paints, she captures the natural essence of her subjects. Chrissy is especially interested in the relationship between land and water and how water affects the colors, shapes and dynamics of landscapes.


Her paintings hang in many homes across the United States.
---
Awards

2017

3rd Place - Morristown Plein Air, NY

2nd Place - Morristown Plein Air, Quick Draw, NY

2016
Honorable Mention - Plein Air Easton, Quick Draw Preview, MD

2015
The Best Depiction of Nature award - Paint It! Ellicott City, MD

Honorable Mention - Camp Hill, PA Plein Air Quick Draw Competition.
2014
3rd Place - Adirondack Harvest Plein Air Festival - Ticonderoga, NY




Honorable Mention - Castine Plein Air Festival, ME

People's Choice & Honorable Mention - Morristown Plein Air Festival, NY

Will Roger's Award - Adirondack Plein Air Festival, NY
2011
Adirondack Artist Guild Award - Adirondack Plein Air Festival, NY

---
Exhibitions
2017

Paint It! - Ellicott City, MD

Adirondack Plein Air Festival - Saranac Lake, NY

Morristown Plein Air Festival - Morristown, NY

Castine Plein Air Festival - Castine, ME

Hudson Valley Plein Air Festival - Montgomery, NY

2016

Easels in Frederick Quick Draw - Frederick, MD
Santa Fe Plein Air Festival - Santa Fe, NM
Plein Air Easton Quick Draw - Easton, MD
Adirondack Plein Air Festival - Saranac Lake, NY

Morristown Plein Air Festival - Morristown, NY
Castine Plein Air Festival - Castine, ME
Seneca Lake Plein Air Festival - Geneva, NY
Hudson Valley Plein Air Festival - Montgomery, NY (showing as an organizer)
2015

Farm Art Trail - Wallkill River School Gallery, Montgomery, NY
Seneca Lake Plein Air Festival - Geneva, NY
Adirondack Plein Air Festival - Saranac Lake, NY

Morristown Plein Air Festival - Morristown, NY
Castine Plein Air Festival - Castine, ME

Paint It! - Ellicott City, MD
Camp Hill Plein Air Quick Draw - Camp Hill, PA
2014

Farm Art Trail - Wallkill River School Gallery, Montgomery, NY


Adirondack Harvest Plein Air Festival - Ticonderoga, NY

Adirondack Plein Air Festival - Saranac Lake, NY
Morristown Plein Air Festival - Morristown, NY
Castine Plein Air Festival - Castine, ME
2013

Solo Show - Wallkill River School Gallery, Montgomery, NY

Adirondack Plein Air Festival - Saranac Lake, NY
2012

Solo Show - Wallkill River School Gallery, Montgomery, NY

Adirondack Plein Air Festival - Saranac Lake, NY

2011

Solo Show - Wallkill River School Gallery, Montgomery, NY

Adirondack Plein Air Festival - Saranac Lake, NY